Length: 90 minutes, no intermission
Premiere: January 29, 1995, Opera Bonn, Neues Theater für Musik, Forum der Kunst
und Ausstellungshalle der Bundesrepublik Deutschland
Guest Performances: Staatstheater, Darmstadt; Figurentheater Festival, Erlangen;
Theaterhaus, Jena; Theaterforum, Ludwigsburg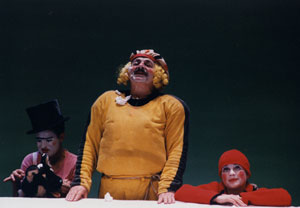 Comedia and its hot and cold portrayal of our comic nature, our abysmal depths, our melancholies and dreams is a desirous source of insight into the world and into human life itself. Four couples, coming from the western culture with its inherent comic and grotesque everyday-life, explore their lives in one day with a great variety of theatrical means. The theater is one half, the audience's space the other half of the world. The text fragments were selected from opera, popular songs and poetry. They were drawn from everyday-life or written by children. The musical material includes Bach, Beethoven, Chopin, Mozart, Schubert, Satie, Weber, popular music and dance music.