Length: 85 minutes, no intermission
Premiere: May 10, 1992, Opera of Kiel, NTT (Theater Festival of Northern Germany)
Guest Performances: Vienna Festwochen; Basel; Theaterhaus Gessnerallee, Zuerich; Akademie der Kuenste, Berlin; Bonn; Muenster; International Theater Festival EUROKAZ, Zagreb; Mai-Festspiele, Wiesbaden; Figurentheater Festival Erlangen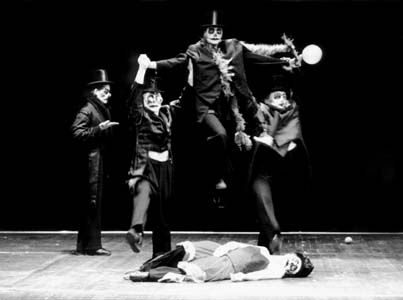 Following the libretto's dramaturgy of the Verdi-Opera, the ensemble developed five images of different states of love. The musical composition for the piece is based on a live recording of a rehearsal with Arturo Toscanini, where the Maestro vivaciously interrupts the unfolding music with angry outbursts. Freyer creates images of a male society, lets male characters like Germont or 'the director' meet the Traviata - men, who try to shape her to be what they desire or fantasize: the loving wife, the whore, the dying consumptive.