Achim Freyer
set and costume designer, stage director and painter

The "Meisterschüler" of Bertolt Brecht was born in 1934 and before he turned his attention toward the theater, where he has worked as stage director, set and costume designer, he was educated as a painter. His dramatic productions have been shown in the Berlin Schlosspark Theater, the Schiller Theater in Berlin, the Berliner Ensemble (i.e. Hamlet) and in the Burgtheater in Vienna (i.e. the Philip Glass trilogy, Ovid's Metamorphosen, Woyzeck, Phaeton, Der Diener zweier Herren 1997, and the world premiere of Die Eingeborene 1999).
His work in the opera has taken him to cities throughout Europe, including Munich, Basel, Amsterdam, Vienna, Paris and Salzburg. In 1980 he directed Weber's Der Freischütz in Stuttgart and in 1982 Mozart's Die Zauberflöte in Hamburg, a production that has successfully gone down in theater history and after celebrating twenty triumphant years, whenever presented, still plays to sold-out houses. He interpreted this work again for several other theaters, in Vienna in 1991, for the Salzburger Festspiele in 1997 and in 2002 for both the Schwetzinger Festspiele and the Opera National du Rhin in Strasburg. Further productions have included Glück's Orfeo ed Euridice in 1982 at the Deutschen Oper Berlin, Rossini's La Cenerentola in 1997 at the Wiener Volksoper, Wagner's Tristan und Isolde in 1994 in Brussels and in 1996 he created and staged theatrical scenes to Bach's h-moll-Messe for the Schwetzinger Festspiele. In 1996 he also staged a production of Mozart's Don Giovanni in Venice, which he restaged in 1998 for the Schwetzinger Festspiele, Strasburg, Lisbon and Montpelier. In 1994 for his production of Turandot / Persephone in Venice, he received the Italian Critic's Award for the best production of the year. For the Wiener Festwochen in 1998/1999, he directed Monteverdi's L'Orfeo (a co-production with the Bayerischen Staatsoper in Munich), and in 1999/2000 Schumann's Genoveva (a co-production with the Opera Leipzig). In 2001 he staged the seldom performed Haydn opera L'anima del filosofo for the Schwetzinger Festspiele and also created a theatrical version of Verdi's Messa da Requiem for the Deutsche Oper Berlin. In 2002, Freyer made his debut in the U.S.A. with a revised version of his Bach's h-moll Messe performed at the Los Angeles Opera.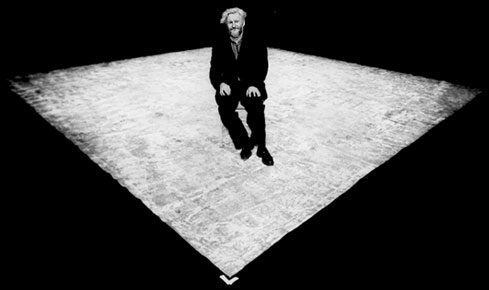 Many world premieres of music theater pieces may be found among Achim Freyer's collective works. In 1981 he staged the first performance of the Philip Glass trilogy Satyagraha in Stuttgart, followed by Echnaton in 1984, Einstein on the Beach in 1988, and in 1997 Das Mädchen mit dem Schwefelhölzern by Helmut Lachenmann at the Staatsoper Hamburg. In collaboration with the composer Dieter Schnebel, Freyer created Körper-Sprache, Maulwerke and Vergänglichkeit (Hamburg 1991) and Mayakowski's Tod-Totentanz which premiered in 1998 at the Opera Leipzig. The world premiere of the Sciarrino opera, Macbeth, a huge success, was originally performed at the Schwetzinger Festspiele, and was later shown in Frankfurt, Graz and New York. Freyer's most recent works have included the world premiere of Luca Francesconi's Ballata at the Opera de la Monnaie in Brussels (Autumn 2002) and a production of Strauss's Salome at the Deutschen Oper Berlin.
In 1999, Achim Freyer was awarded the theater prize presented annually by the ITI (International Theater Institute). From 1976 until 1999, Freyer held a professorship in stage design at the Hochschule der Künste Berlin. His numerous art exhibits have brought him international acclaim. His work has been shown in the Documenta in Kassel 1977 and 1987, as well as in Berlin, Bonn, Brussels, Florence, Hamburg, Moscow, Munich, Venice, Vienna and Tel Aviv. 1999 he was awarded the gold medal for a retrospective of his work at the Quadriennale Prag.
In 1992, the Freyer-Ensemble was founded. Working together, Freyer and the group have developed an absolutely unique "theater language", and over a period of ten years they have created more than twenty different pieces for the theater. The Freyer-Ensemble is always an integral part in all of Achim Freyer's more extensive opera and dramatic theater productions.
Further Information: www.freyer-art.de